Aerial Photography Photo Gallery: Flying nieces and nephews
26 August 2012: flying the nieces and nephews at Brainard, Hartford.
Explaining how the elevator trim tab works.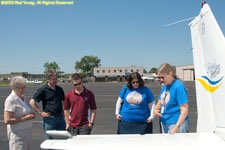 Number one niece (Rena) takes to the air at last!
About to fly Jason and Anna:
---
©2012 Mermaid Underwater Photographic. All Rights Reserved.
Contact us at mermaid@underwater.org.
Last modified 21 September 2012